【Renewable Energy】Foreign Companies Request Early Approval of PDP8
PDP 8 also includes promoting the development of new forms of energy, such as hydrogen, ammonia, and coal-to-gas conversion. It also aims to focus on renewable energy sources (solar and wind), particularly direct exports of offshore wind and indirect exports through the production of clean energy batteries.
However, PDP 8, constructed starting in 2019, is the legal basis for implementing the project of power generation sources and power grids, which was submitted to the government by the Ministry of Commerce and Industry at the end of 2021 and has not yet been approved, although it has been revised many times.
At the April 22 meeting with the Prime Minister, many foreign investors expressed concern that the 8th National Electricity Master Plan (PDP8) has not yet been approved. In response to their commitment to emission reductions, foreign companies investing in Vietnam want to use electricity from renewable energy sources, but no mechanism for direct trading of electricity from renewable energy sources exists. According to them, delays in PDP8 and the mechanism that allows power producers to sell power directly to electricity consumers (DPPA) have affected the investment expansion of many foreign companies.
FDI companies participating in the meeting also stated that the use of renewable energy in industrial parks is very important for Vietnam's energy transformation plan. Therefore, an energy distribution company is needed to distribute energy throughout the industrial parks, and the FDI companies have requested that the government allow the industrial parks to establish their own energy distribution companies.
In response to the investors' reaction, Minister of Commerce and Industry Nguyen Hong Dien stated that the latest draft of PDP8 is being improved as soon as possible and will be approved by the PM in May; immediately after PDP8 is approved, the Ministry of Commerce will develop a plan and propose a pilot implementation policy to implement the plan.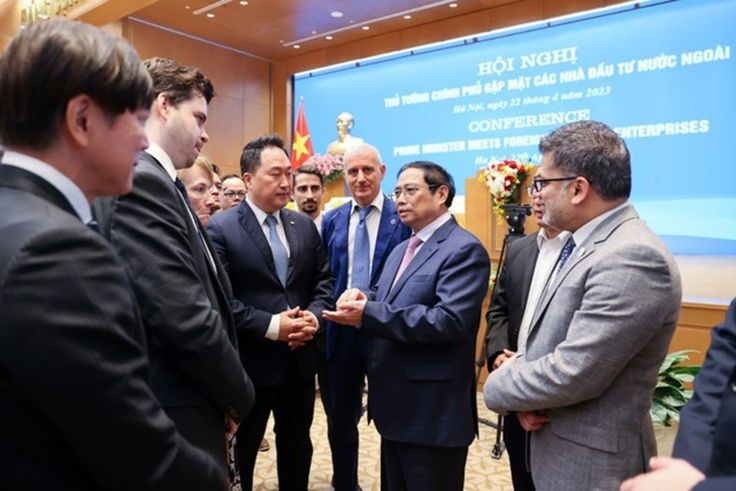 【M&A】Demand for funds will drastically increase real estate M&A
Currently, Vietnamese real estate firms are facing difficulties in raising funds. First, negative market sentiment and products that do not meet actual demand make sales operations difficult. Both real estate firms and homebuyers are dependent on bank loans and other financing. Second, credit to real estate continues to be tightly controlled, and other financing channels such as bonds and stocks have been less favorable. In addition to this, interest rates are high and bond insolvencies are concentrated in the 2023-2024 period. Therefore, mergers and acquisitions are expected to increase and are a potential financing channel.
According to experts, 2023-2024 could see a surge in M&A activity as many investors need to sell assets to relieve their cash shortages. M&A activity is expected to start late last year and early this year and boom from the second quarter onward as demand for funds increases rapidly.
For example, Novaland negotiated with its partner Dallas Vietnam Gamma and reached an agreement for a share value of VND1 trillion; Phat Dat also sold an 89% stake in the company that owns the Dien Bien Phu 197 project in Binh Tan District worth VND285 billion.
Even though demand is high, successful transactions are still few. The reason is that most foreign investors offer very high interest rates, about 18-20%/year, while Vietnamese investors accept only 13-15%/year, so both could not agree.
Although Vietnam's real estate market is facing difficulties, there are still many possibilities that attract great interest from both domestic and foreign investors. For foreign investors in particular, this market offers many opportunities for inflows of long-term investments. Japanese investors, in particular, have become a representative group that desires to invest for the long term.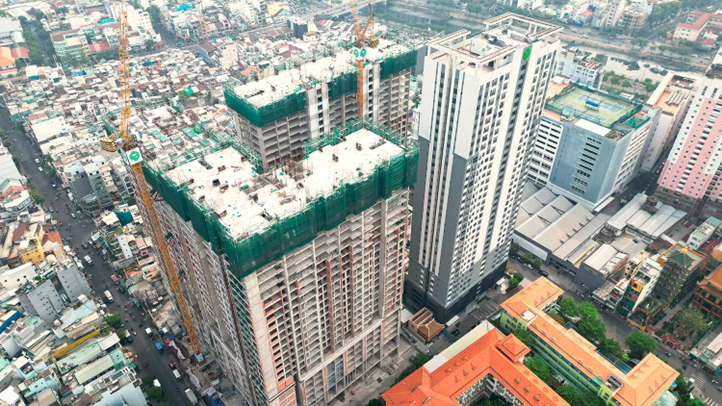 【EC】Vietnam's E-Commerce Reaches More Than Billion
At the Vietnam E-Commerce Forum in 2023, VECOM stressed that e-commerce is still growing strongly despite the economic difficulties in the first months of 2023. e-Commerce in the first quarter of 2023 grew by more than 22% over the same period. In 2023, Vietnam's e-commerce is expected to still maintain a growth rate of more than 25% and reach a scale of more than US$20 billion.
Retail e-commerce transactions in 2022 accounted for about 8.5% of total retail consumer goods and services revenue. In particular, looking at the retail consumer goods segment alone, online retail consumer goods accounted for about 7.2% of total retail consumer goods in 2022, higher than the corresponding ratio of 6.7% in 2021.
Notably, with regard to business activity on e-commerce platforms and social media, VECOM's survey stated that 65% of companies have business activities on social media. zalo, Whatsapp, Viber, Facebook Messenger, etc. The frequency of use of these tools has increased over the years. According to the Vietnam E-Commerce Association (VECOM), selling on social media is rated as the most effective method, surpassing channels such as company websites, apps and e-commerce platforms.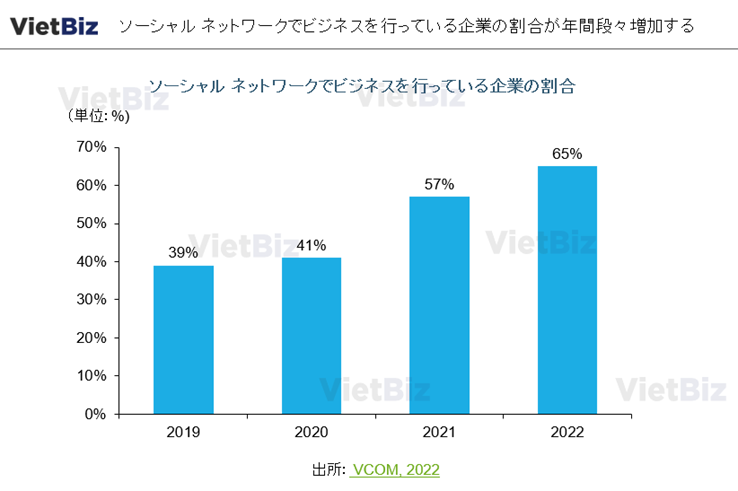 The head of Data Science Metrics, Inc. assessed that Tiktok Shop, established in mid-2022, has become the third largest retail e-commerce platform in Vietnam after Shopee and Lazada. the trend of live commerce on Tiktok ( live commerce) on Tiktok is the fastest way to accelerate product sales.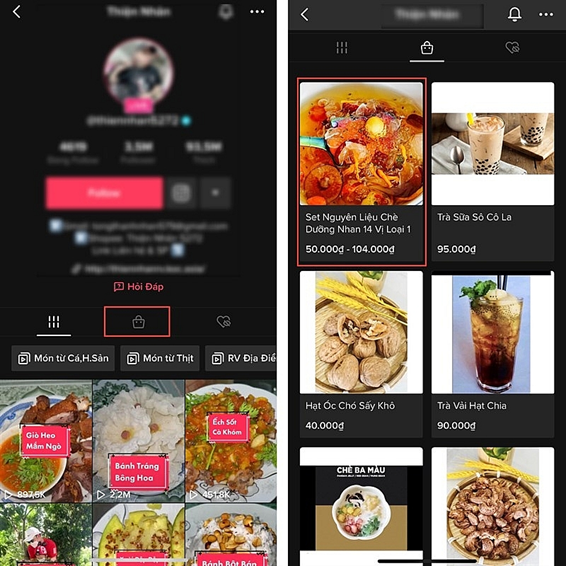 【Carbon Neutrality】Trading carbon credits: commercial opportunities in a billion-dollar market
The international carbon market currently includes about 40 countries and regions, with an annual transaction value of several hundred billion dollars.
In Vietnam, many organizations, including the private sector as well as the government, are interested in trading carbon credits. The future market will be mandatory and will need to be allocated to greenhouse gas emitting bases. The government is compiling a list of bases and industries that need to implement greenhouse emission reductions. Thus, companies that emit more than 3,000 tons of CO2 per year must implement emission reductions.
Although the carbon market in Vietnam is not yet complete, companies can already sell carbon credits in Vietnam. Currently, there are two projects in Vietnam selling carbon credits at $6 per unit for a project in the north central region and $10 per unit for a project in Quang Nam.
The Ministry of Natural Resources and Environment is studying each carbon credit trading model in the world in order to apply the best model to Vietnam. Vietnam aims to pilot a carbon credit exchange in 2025 and officially operate it in 2028.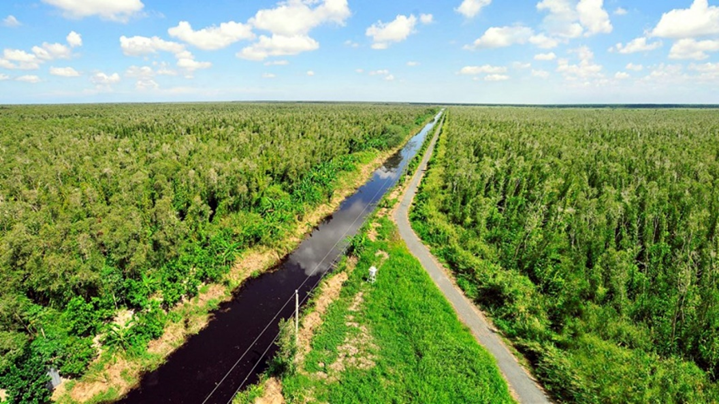 【Processed Food】FMCG market value is expected to increase by 18% over 2022
According to Euromonitor, the value of Vietnam's FMCG market in 2023 is expected to increase by 18% over 2022 and generate about VND720.3 trillion in revenue, despite economic difficulties.
According to the 2023 Food Industry Business Outlook Survey, 94.4% of firms believe the business environment in 2023 will be positive.
According to the 2022 Vietnam Food Industry Report published by MISA AMIS CRM, food companies in most distribution channels have increased their sales year-on-year.
Notably, in the traditional channel, 85.7% of firms reported an increase in sales, up 62.6% year over year. Other channels also experienced notable growth, such as e-commerce (+29.5%) and direct in-store consumption (+30%).
The FMCG growth trend is expected to continue into 2023; the 2023 Food Industry Business Outlook Survey shows that many firms are optimistic about the growth potential of Vietnam's food industry.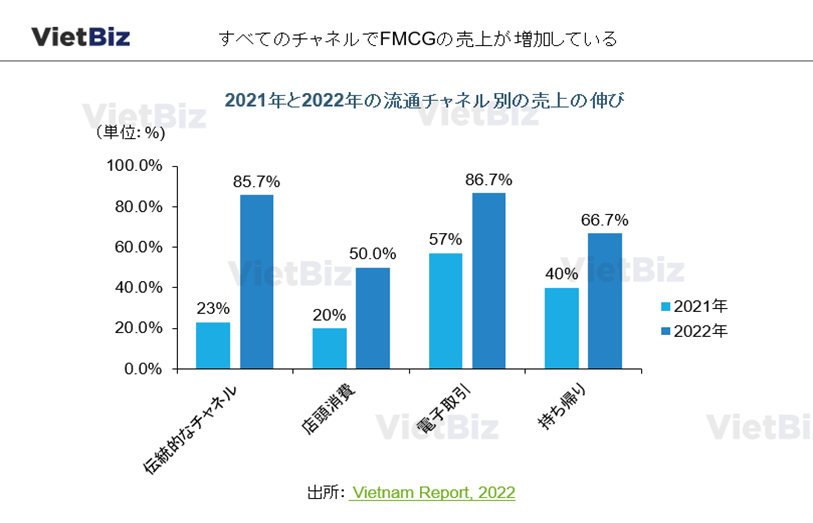 ベトナム市場の情報収集を支援します
ベトナム市場での情報収集にお困りの方は多くいらっしゃるのではないでしょうか。
VietBizは日本企業の海外事業・ベトナム事業担当者向けに市場調査、現地パートナー探索、ビジネスマッチング、販路開拓、M&A・合弁支援サービスを提供しています。
ベトナム特化の経営コンサルティング会社、ONE-VALUE株式会社はベトナム事業に関するご相談を随時無料でこちらから受け付けております。