Introduction
In Vietnam, consumer lifestyles are changing rapidly due to population growth, income growth, and industrialization. In particular, the market for daily consumer goods (FMCG) and food products is growing significantly. The market for plastics and packaging used for these daily consumer goods and food products is expected to grow accordingly.
Consumer attitudes are also changing in Vietnam. Partly due to the Corona disaster, an increasing number of Vietnamese prefer clean, packaged fresh and processed foods. The same is true where they shop, with modern supermarkets and convenience stores gaining market share from traditional markets.
In addition, urbanization and industrialization are expected to drive similar growth in the markets for construction and engineering plastics.
Therefore, it is likely that the consumption of plastics in Vietnam will increase at a more accelerated rate than simple population growth.
This report provides an overview of the plastics market in Vietnam, including an overview, history, market trends, and key companies. Market trends will also discuss the appearance of different types of plastics, the supply chain, and market challenges.
Plastic Market Overview
According to the classification by the Vietnamese Ministry of Industry and Trade, plastic products are classified as "for packaging," "for construction," "for daily consumption," and "for engineering.
| | |
| --- | --- |
| for packing | Plastic bags, bottles for shampoo, detergent, etc., PET bottles for beverages, etc. |
| for construction | Pipes, tanks, etc. |
| for daily consumption | Chairs, tables, dishes, toys, etc. |
| for engineering | For engineering: automotive parts, medical products, etc. |
The size of the plastics market in 2020 is approximately $20 billion, with "Packaging" accounting for 33% of the total market by sector, at approximately $6.6 billion. Plastics for construction is about $4.8 billion (24%), plastics for daily consumption is about $4.4 billion (22%), and engineering is about $4.2 billion (21%).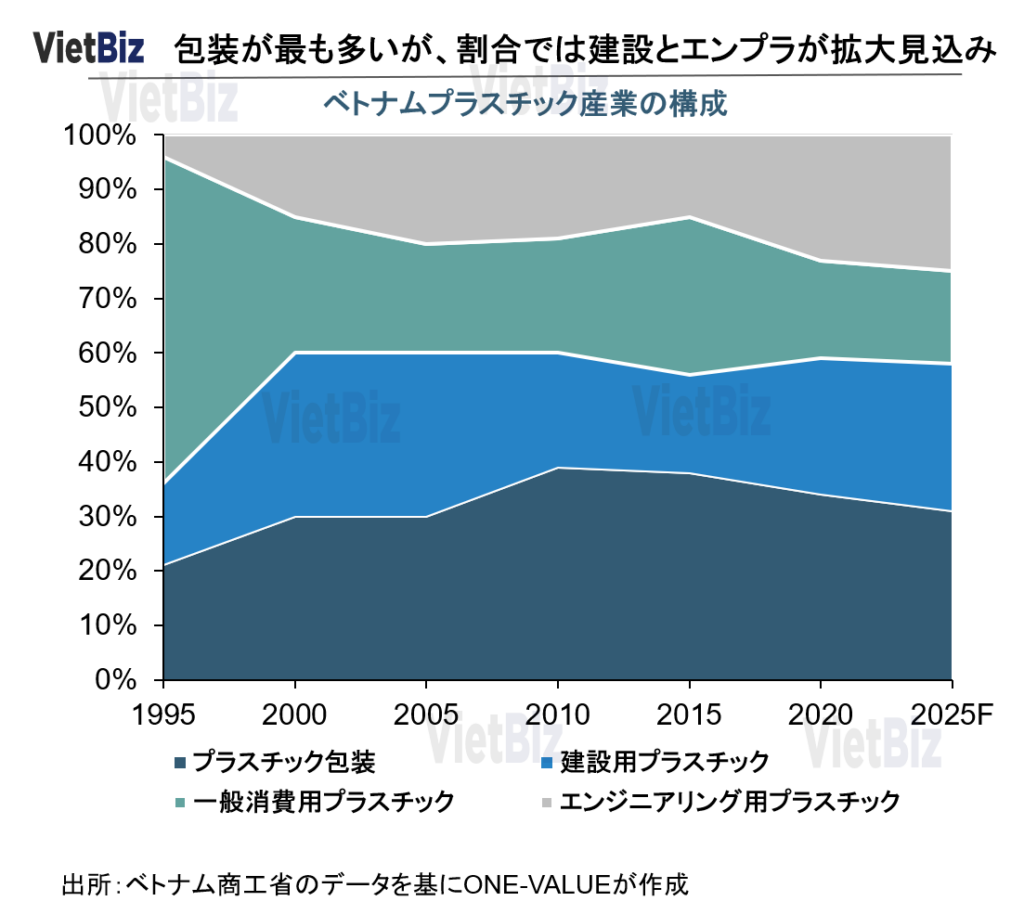 In a market environment where the number of domestic plastics manufacturers is estimated to be about 2,000, the number of engineering plastics manufacturers accounts for about 15% of the total market, but 21% of the market size (total sales), indicating a shift toward higher value-added fields.
History of the Vietnamese Plastics Market
This chapter describes the evolution of the plastics industry in Vietnam in chronological order.
1960~1990
The period 1960-1990 was the dawn of Vietnam's plastics industry.
In 1959, a Chinese-supported PVC (polyvinyl chloride) production line was installed at the Viet Chi Chemical Plant in Phu Tho Province, Vietnam. Most of the PVC plastic material produced on this line was used in the Vietnam War. However, this PVC production line at the Viet Chi chemical plant was shut down by the Vietnamese government in 1976 due to technical delays and severe damage to the equipment.
1990~2007
The 1990-2007 period was a period of rapid growth for the Vietnamese plastics industry, with average production increasing by about 13.5%.
During this period, many foreign firms began to enter Vietnam due to the Vietnamese government's implementation of the Doi Moi policy. The entry of foreign firms greatly increased domestic production capacity for plastic materials. For example, TPC Vina, a major petrochemical joint venture (a joint venture between Thailand Plastics and Chemicals JSC and Vietnam Chemical Corporation Vinachem), Phu My Chemical and Plastic Plant in Ba Ria-Vung Tau Province (a joint venture between Malaysian giant Petronas Malaysia and the government of Ba Ria-Vung Tau Province) and other large-scale plants in Ba Ria-Vung Tau Province.
2007~current
Since Vietnam joined the WTO in 2007, the country's overall economy has developed significantly. The plastics industry has also grown rapidly, and product diversification has occurred with the classification of plastics for packaging, construction, general consumption, and engineering. In addition, the manufacturing industry in Vietnam developed significantly, as a large amount of foreign direct investment capital (FDI) flowed into the country. Along with this, plastic packaging in particular has developed significantly in Vietnam.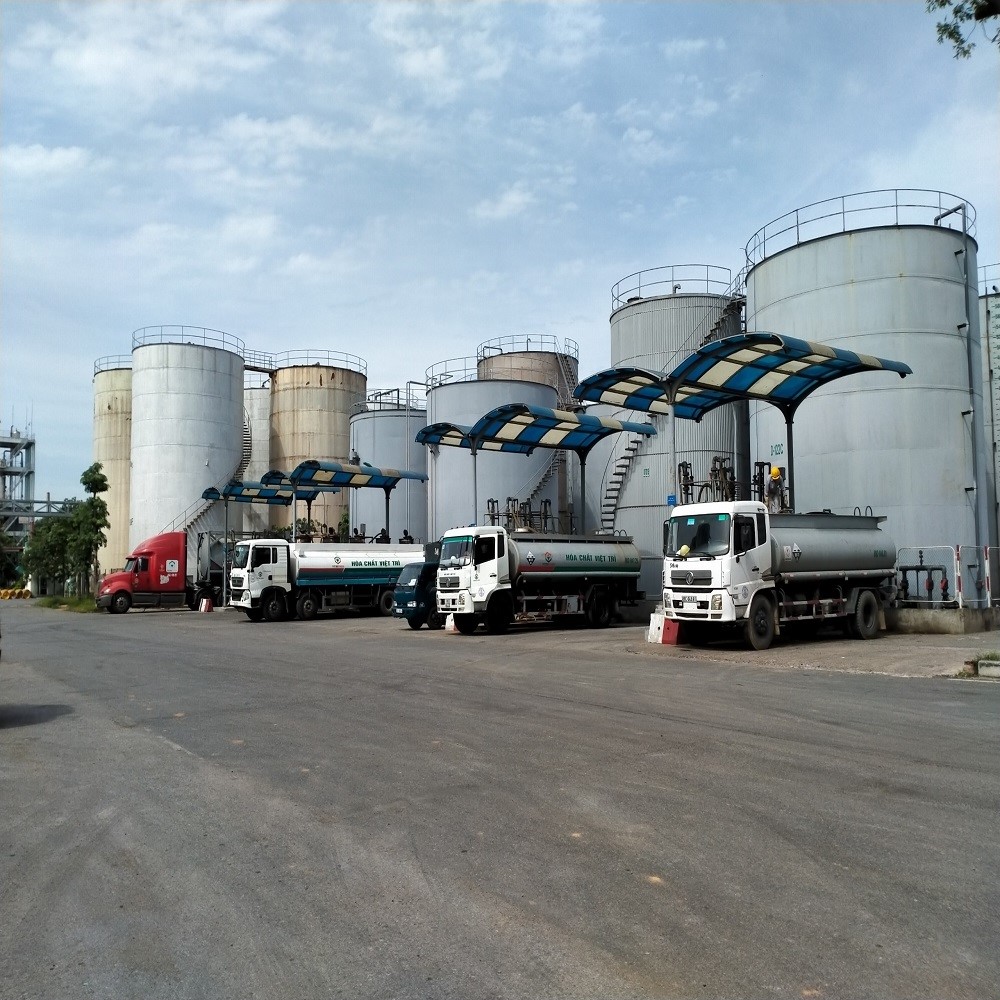 Trends in the Vietnamese plastics market
Vietnam's plastics industry is contributing significantly to the country's export growth as well as domestic demand. According to statistics from the Department of Export and Entry of the Ministry of Industry and Trade of Vietnam, the export turnover of plastic products in 2021 was about $5 billion, an increase of about 35% over the previous year. This export turnover is growing very significantly compared to other export sectors. Plastic materials exports were also strong, growing 68% over the previous year to $2.3 billion, bringing the total export value of the plastics industry, including products and materials, to $7.2 billion.
The U.S. is the largest export destination, accounting for 38% of total plastic product exports at approximately $1.9 billion, followed by Japan at approximately $700 million, accounting for 14% of total exports, then $600 million to ASEAN, and $600 million to the EU.
The average market growth rate from 2016 to 2021 was approximately 17%, and as of 2022, double-digit growth is expected to continue for the foreseeable future.
In addition, after 2022, each free trade agreement may provide a tailwind for the plastics industry, and with M&A deals from Thailand, Korea, Japan, and other countries interested in the favorable business environment, the industry is expected to grow to an export scale of $10 billion in the future.
Raw Material Supply and Consumption Demand for Plastics
As in Japan and other countries that are not oil-producing countries, 85-90% of the materials used in Vietnam's plastics industry are imported from abroad. On the other hand, the price of raw materials in Vietnam always accounts for 75-80% of the production cost of products, so the inability to take the lead in acquiring raw materials is a major challenge for Vietnamese plastics companies.
Polyethylene(PE)
Vietnam's PE raw materials for the plastics industry were almost entirely imported until 2021, and S&P Global Platts estimates that Vietnam's PE demand will reach 1.6 million tons in 2022, with an average growth rate of about 5.2%. PE domestic demand is still growing at a relatively stable rate, but at this point, Vietnam's
PE production in Vietnam is underway in the southern province of Ba Ria-Vung Tau, where 80% of the country's plastics manufacturers are concentrated; the Siam Cement Group, a Thai royal conglomerate, has been working on the Long Son Petrochemical Project since 2018, with operations scheduled for 2023. Once operational, the PE production capacity is planned to be 1 million tons per year, which is expected to cover about 70% of the demand domestically.
The first phase of the Long Son petrochemical project (in Ba Ria-Vung Tau province), which began operations in early 2021, is expected to meet about 60% of Vietnam's domestic PE demand.
Polypropylene(PP)
PP domestic demand is expected to reach 1.85 million tons in 2022, growing at an average of 6.1% over the period 2018-2022.During the period 2017-2019, Vietnam's PP production capacity is expected to grow at an average rate of 6.1%.The operations of the Nghi Son petrochemical project (Thanh Hoa province), Binh Son refined oil and other projects in 2018 The expansion is due to.
Vietnam is producing 460,000 t/y and 600,000 t/y of PP, respectively, from two large petrochemical projects coming on stream: the Long Son Petrochemical Project, which will begin operations in 2023, and the Hyosung Petrochemical Project, which will begin operations in 2020. These two projects have increased the PP production capacity of Vietnam's plastics industry by about three times its previous capacity and are moving toward a system that can supply PP domestic demand almost entirely domestically.
Polyvinyl(PVC)
While Vietnam's domestic PVC production capacity has not improved in recent years, demand for PVC continues to grow. With Vietnam's urbanization and construction demand continuing to grow steadily, demand for PVC raw materials for construction plastics is expected to grow at an average annual rate of 11.1% during the period 2018-2022, or about 1.2 million tons in 2022.
On the other hand, the production of polyvinyl chloride in Vietnam in this period remained almost unchanged with only two companies, TPC Vina and AGC Chemicals Vietnam, with a total production capacity of about 390,000 t/y. According to VPA statistics, until 2021, 66% of the domestic demand for PV C domestic demand for 66% is dependent on imports.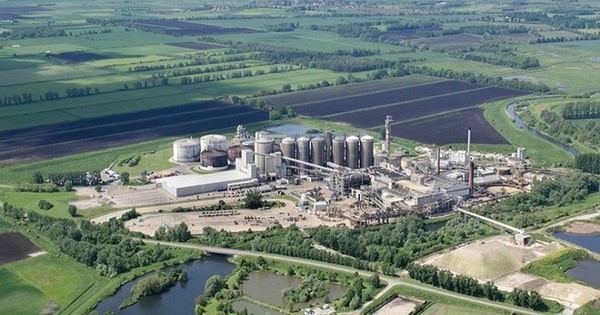 Plastics Market Supply Chain
The supply chain of the plastics industry in Vietnam is not very different from that in Japan. First, it can be divided into two categories: "upstream" and "downstream.
Petrochemical companies (crude oil refineries) are located upstream of the plastics industry. These companies refine crude oil and pyrolyze naphtha to produce molding materials such as plastic pellets. Downstream of the plastics industry are product manufacturers, which are responsible for the process of forming molding materials into plastic products.
Challenges for Vietnam's Plastics Industry
This chapter addresses two issues in the Vietnamese plastics industry, particularly in the production of plastic packaging.
Dependence on Imports for Raw Materials
The biggest challenge in the Vietnamese plastics industry is that most of the raw materials for manufacturing plastic products are imported from abroad.
Not only are upstream enterprises not producing in sufficient quantities, but the types of products are not diversified enough to meet downstream needs. In Vietnam today, upstream plastics companies can only produce four types of molding materials: PVC, PP, PET, and PS. Of these, even PVC, which has the highest production volume, can only meet 51% of the domestic production capacity for plastic products.
Downstream plastics companies use up to 30 or more types of plastic molding materials each year and rely almost entirely on imports for their procurement.
PE is a particularly important material in the production of plastic packaging, but the upstream Vietnamese plastics industry does not have sufficient production capacity.
South Korea is the largest importer of plastic raw materials for Vietnam. Next in line are Taiwan, Saudi Arabia, China, Thailand, and Japan. Vietnam's plastic material imports come mainly from neighboring East Asian countries such as South Korea, China, and Japan to keep transportation costs down. However, Vietnam also imports a large amount of raw materials from Saudi Arabia. Saudi Arabia not only has a large amount of crude oil, but also excels in PE production, giving it a price advantage over other countries. Saudi Arabia supplies the majority of PE, a plastic material that accounts for the largest share of Vietnam's import structure.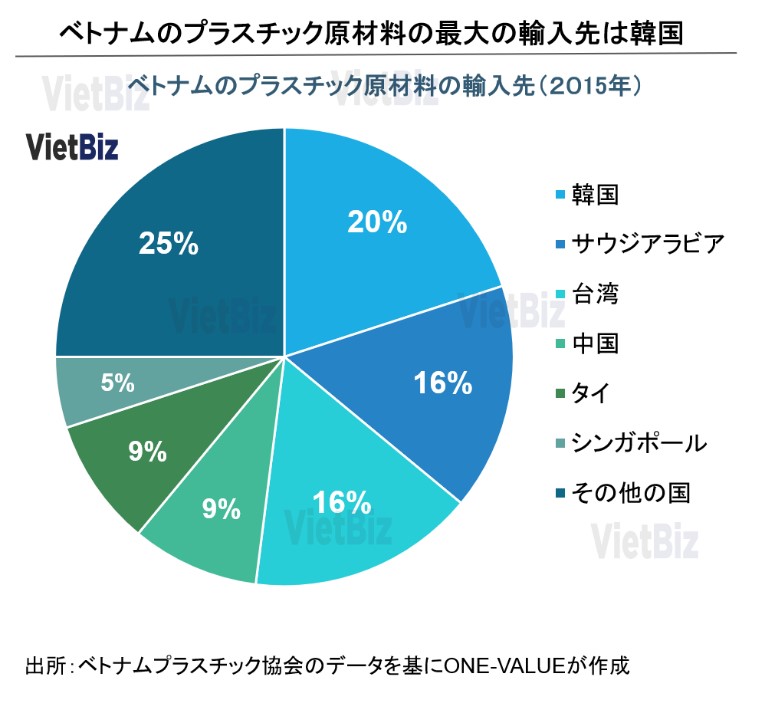 Vietnam's Domestic Raw Material Production Is Concentrated in the South
Petrochemical plants (crude oil refineries) in Vietnam are concentrated in the south.
Petrochemical plants currently in operation are mainly concentrated in the South, especially in the Southeast region, including Ba Ria-Vung Tau and Dong Nai provinces. There is only one Binh Son petrochemical plant in the central region and one Nghi Son plant in the north. Geographical distances and high transportation costs make it difficult for plastics companies in the North to obtain domestically produced raw materials, especially PVC raw materials, from Vietnam.
Trends in the Vietnamese Plastic Packaging Market
本章では、ベトナムのプラスチック市場で最もシェアの高い分野である包装用プラスチックについて解説する。
市場規模
(Vietnam Report) forecast found that the plastic packaging segment of the food sector will have an annual growth rate of about 15.2% in 2022, while the plastic packaging for beverage bottles and plastic bottles and other segments will have an annual growth rate of about 13.1%. The analysis also showed that the growth of the plastic packaging market in Vietnam in 2022 will depend on the growth of the food and beverage segments.
According to the company's statistics, plastic packaging accounts for about 40% of the market size. It was also estimated that food packaging accounts for 30-50% of the plastic packaging market, electrical appliances for 5-10%, and pharmaceuticals for 5-10%. Vietnam's food industry, which is growing rapidly at an average of 15-20%, is the most important driver for the growth of the packaging industry.
In recent years, advances in materials have made safe soft packaging a new trend in Vietnam.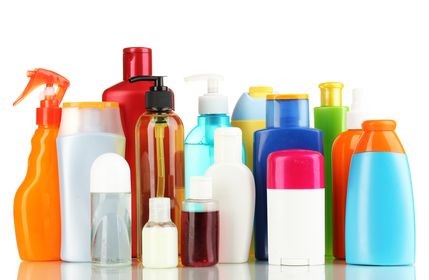 Distribution of plastic packaging
The business model of plastic packaging companies is primarily B2B.
In Vietnam, plastic packaging is divided into four main groups: thin film packaging, composite film packaging, PET bottles, and non-PET bottles. Customers of plastic packaging companies are mainly food and beverage manufacturing and processing enterprises, daily consumer goods (FMCG) enterprises, and other retailers.
Below is a representative clientele for each of the plastic packaging groups.
Food manufacturing and processing companies
(Purchasing packaging film)
Masan Consumer, AceCook, Ajinomoto Vietnam, Orion Vietnam, Micoem, Vifon
Beverage
(Purchase of PET bottles, etc.)
Coca Cola Vietnam, Suntory Pepsico (subsidiary of Suntory), Nestle Vietnam, Tan Hiep Phat, Urc Vietnam
Retail
(purchase soft packaging, plastic bags, etc.)
BigC, Winmart, Circle K
Other manufacturing companies
(Purchased PP textile packaging and other plastic packaging)
Others
Leading Plastic Products and Plastic Packaging Companies
This chapter introduces Vietnam's plastics industry, focusing on companies producing plastic packaging and plastic bottles for pharmaceuticals and daily necessities.
DUY TAN

| | |
| --- | --- |
| company name | DUY TAN PLASTICS MANUFACTURING CORPORATION |
| year of establishment | 1987 |
| head office | Ho Chi Minh |
| HP | https://www.duytan.com/ |
Duy Tan (Duy Tung) is one of Vietnam's leading plastic manufacturing companies, focusing on three main areas: household plastic products, food packaging, and cosmetics and pharmaceuticals.
Founded in 1987, Duy Tong Company is a well-established company that has been in business in Vietnam for more than 35 years.
In addition to maintaining its position as the leading brand in the domestic plastics industry, Zooey Tong's long-term strategy includes the development and expansion of overseas markets.
Since 1997, Zooey Tong has begun exporting its products to Cambodia and Myanmar. Today, Zooey Tong's products are sold in more than 30 countries worldwide, including the United States, Canada, Sweden, Australia, and Mauritius.
In particular, in July 2016, Zooey Tong invested in a manufacturing plant in California, USA. This is a plant specialized in the manufacture and supply of preforms and PET products and all types of pharmaceutical packaging.
Zu Y Tong is the first supplier to Unilever, one of the largest daily necessities companies in Vietnam.
In March 2021, SCG Group, a leading packaging manufacturer in Thailand, acquired 70% of Zooey Tong's outstanding shares, making Zooey Tong part of the group.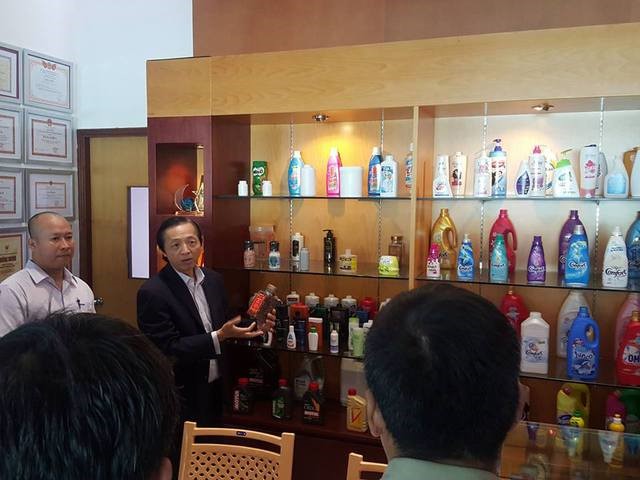 DO THANH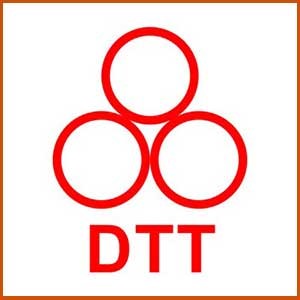 | | |
| --- | --- |
| company name | DO THANH TECHNOLOGY CORPORATION |
| year of establishment | 1994 |
| head office | Ho Chi Minh |
| HP | http://dothanhtech.com/ |
Do Thanh Industrial JSC (Do Thanh Company), established in 1994, was originally a state-owned company under the Ho Chi Minh City Chamber of Commerce. Today, Do Thanh is a privatized joint stock company listed on the Ho Chi Minh City Stock Exchange. Do Thanh's main products are PET bottles and plastic tubes.
The company's PET plastic bottles are supplied to the food, pharmaceutical, and beverage industries. Do Thanh Company is particularly involved with domestic pharmaceutical companies in Vietnam. There is a close business relationship between state-owned and former state-owned enterprises.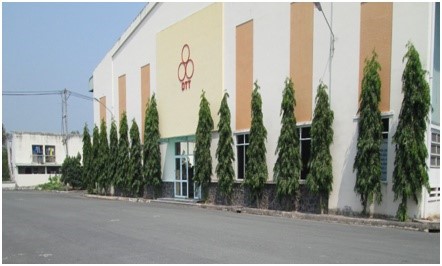 Dai Dong Tien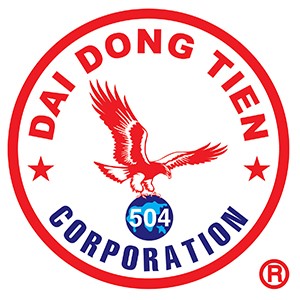 Founded in 1983, Da Don Tien is one of the oldest companies in Vietnam's plastics industry. When most Vietnamese hear the name Daidong Tien, they think of plastic products for household use. In recent years, however, Daidong Tien has also begun to produce plastic bottles and packaging for the food and beverage, medical, and cosmetic industries.
Da Don Tien's strength is in household plastic products. Daidong Tien's plastic products can be found in most middle-income and upper middle-class households in Vietnam.
Daidong Tian's strength lies in cost reduction. Daidong Tian's products are less expensive than those of other brands, and the company also plans to maintain its price advantage in the future.
Daidong Tien exports its products to more than 20 countries worldwide, including Southeast Asia, the Middle East, Australia, New Zealand, Germany, the United Kingdom, France, Switzerland, the Netherlands, Canada, and the United States. Of these countries, Australia is the company's largest export destination.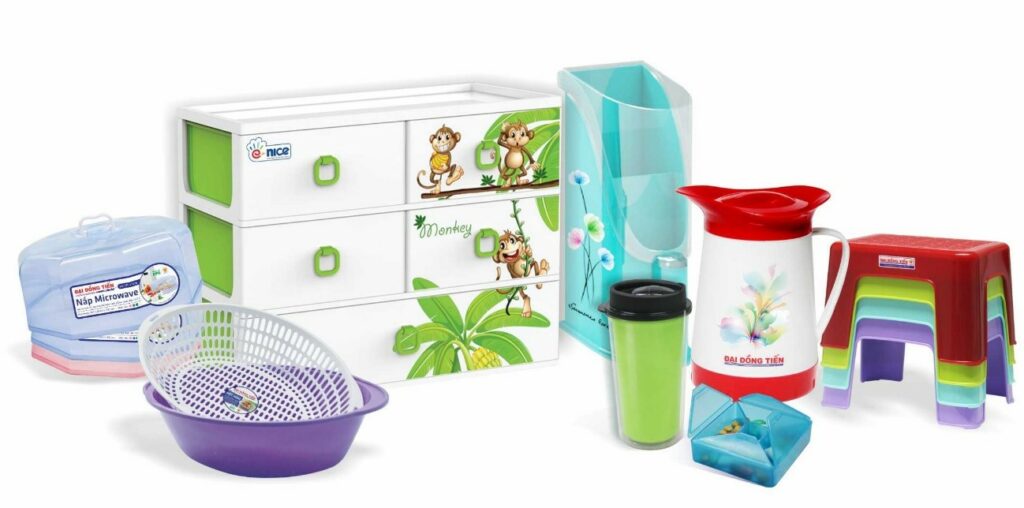 Conclusion
Vietnam's plastics industry and domestic supply chain are not yet mature. Until now, Vietnamese companies have procured most of their plastic raw materials from overseas.
However, as Vietnamese incomes increase, the need to consume plastic products, especially beverages, plastic packaging for pharmaceuticals and food, and plastic bottles, is expected to increase.
Most of the major plastic products manufacturing companies in Vietnam were established before the country's economic opening (1990s). In addition, many of these companies were formerly state-owned enterprises, and thus have close ties to pharmaceutical companies, which are also state-owned.
The plastic products and plastic packaging market in Vietnam is considered a booming market that will continue to grow. In recent years, foreign companies (especially from Thailand and France) have been trying to acquire Vietnamese plastic products and plastic packaging manufacturing companies.
▼ベトナムの市場調査、M&A、ビジネスマッチングの支援をご要望の方は以下からご連絡ください。
【関連記事】ベトナムのプラスチック業界については、こちらの記事も合わせてご覧ください。

ベトナム市場の情報収集を支援します
ベトナム市場での情報収集にお困りの方は多くいらっしゃるのではないでしょうか。
VietBizは日本企業の海外事業・ベトナム事業担当者向けに市場調査、現地パートナー探索、ビジネスマッチング、販路開拓、M&A・合弁支援サービスを提供しています。
ベトナム特化の経営コンサルティング会社、ONE-VALUE株式会社はベトナム事業に関するご相談を随時無料でこちらから受け付けております。