Introduction
In this issue, we would like to introduce an investment project of a company (tentative name: Mars), which operates an EC platform in the southern part of Vietnam. The company sells its products through its own e-commerce site. The company is raising funds from domestic and foreign investors because it is accelerating its sales development in line with its rapid growth. If you are interested in investing in Mars after reading this report, we would be happy to hear from you.
Introduction of Selling Company
Mars was established in 2018. Regarding its management vision, the company aims to be a top 10 domestic e-commerce platform in 3 years, and to expand to Southeast Asia in 10 years to capture market share. The company has been growing steadily in the Corona Disaster, achieving a rapid growth of 7 times the sales in 2022 compared to the previous year, and more than 2,000 companies are currently using its platform as exhibitors, and the company's sales (opening fees and advertising costs) have reached USD 4-5 million. The company's sales (commissions and advertising fees) have reached USD 4-5 million.
Overview of the investment in Mars
| | |
| --- | --- |
| establishment | 2018 |
| business | Operation of EC platform and product sales |
| location | Southern Vietnam |
| sales | 500-600 million yen |
| number of opened companies | 2,000 companies |
| percentage of sale | negotiable |
| asking price | 150-200 million yen |
| Reasons for TEDA Hope | Financing for further business expansion |
Mars社の概要
Mars has already grown into one of the leading EC operators in Japan, and its vision for the future is to expand its business beyond Vietnam into Southeast Asia.
Shareholder Composition
Mars is 60% owned by the three founders and 40% by other investors.
Strengths of Mars, Inc.
Mars' strengths are twofold.
Significant Cost Savings Through IT Technology-Based Management
Mars fully utilizes IT technology for inventory management and order placement and receipt to achieve significant cost reductions. While few companies in Vietnam have adopted IT technology in their wholesale/retail and warehouse operations, Mars has been able to reduce labor costs and minimize human error through its advanced efforts.
Top Share in Blue Ocean Markets
Mars specializes in products and business models that have not previously been available in the EC market, and currently holds the largest market share in the region. This business model is one of the most advanced in Vietnam and Southeast Asia.
Investor Expectations
The reason Mars is calling for investment is to raise funds to realize its vision of expanding its business to Southeast Asia in the future. The company also needs to increase the number of companies opening new stores. Therefore, the company is giving preference to companies that have many connections with suppliers of the products it handles.
Expected Synergies
Expected synergies from the investment in the company include the expansion of the EC business into Vietnam and capital gains from the investment in a promising business.
E-Commerce Development in Vietnam
In Vietnam, Internet users will account for 75% of the population in 2022. Among them, 74.8% of users will use e-commerce, equivalent to 60 million people. e-commerce market sales are expected to increase from $1.3 billion in 2021 to $3.9 billion in 2025. from 2017 to 2022, B2C market sales will maintain an average growth rate of 22%, with new sales of $1.64 billion in 2022 on the back of the Corona disaster.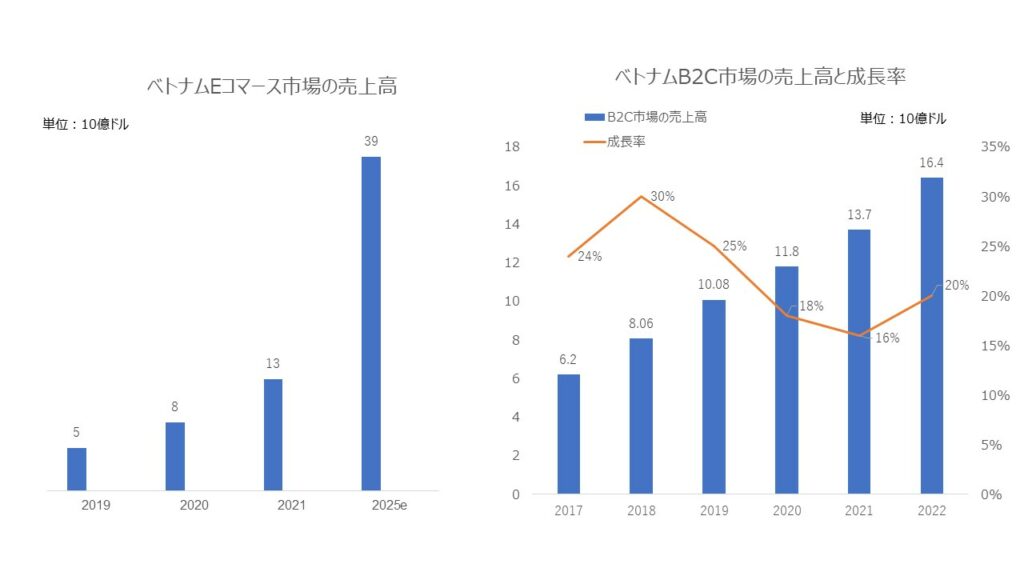 E-commerce users in 2022 have a per capita purchase value of $285. Speaking of mall-based e-commerce platforms, according to the 2022 Reputa report, Singer Paul-affiliated Shopee and Lazada are highly recognized, with Shopee and Lazada accounting for 73% and 20% of the 2022 e-commerce market share, respectively. Notably, TikTok Shop, although only launched in April 2022, ranks third in terms of awareness. Domestic companies Tiki and Sendo are not as well known as foreign companies, with Tiki and Sendo accounting for 5.8% and 1.4% of the market share, respectively.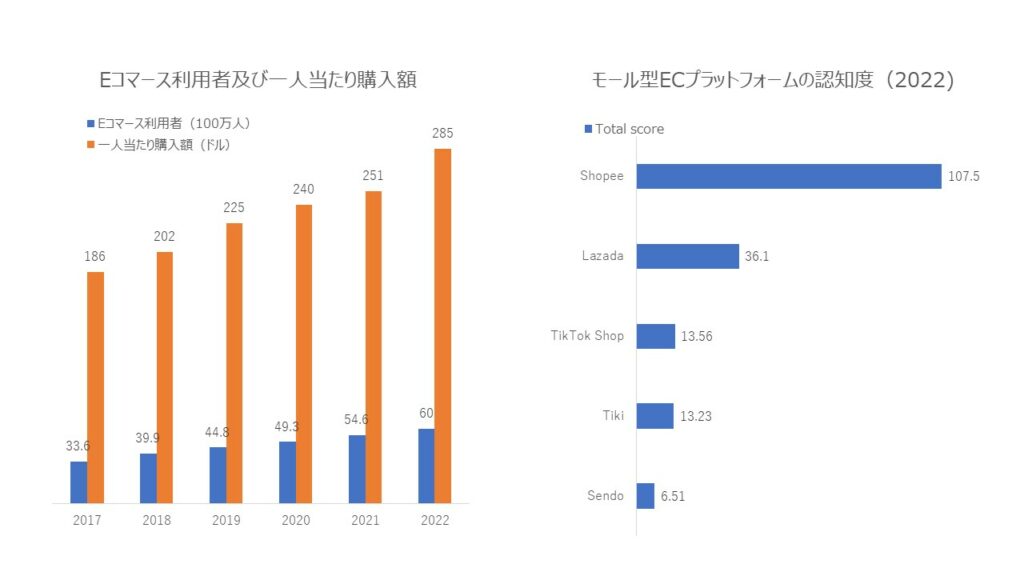 Contact Us
For more information, please contact VietBiz or the operator, ONE-VALUE Co.
ONE-VALUE Co.
contact@onevalue.jp
【関連記事】ECプラットフォームに関するM&A案件については、こちらの案件も合わせてご覧ください。