Introduction
In this report, we will introduce actual M&A deals currently underway. In this report, we will introduce a Vietnamese company that is developing a "virtual shareholders meeting management service" and seeking investment from Japanese companies.
(Published September 9, 2022)
Project Summary
The company profile of the seller (sell-side) of this project is as follows. (Hereafter, the seller side will be referred to as "Company X.")
Commencement of business
2019~
Capital stock
34.56 Bill VND (約1.5 Mill USD) (3,456,000 stocks)
Services
Provision of virtual shareholder meeting management services and other related support and solutions
Head office
Hanoi
Number of Employees
around 25 employees
Sales
Virtual Shareholders' Meeting Management Services
2021: 143,778 USD
January-July 2022: 185,213 USD
Business development: 10% of listed company clients in the next 2 years
Major Clients
Number of clients: over 40 Vietnamese companies served. This includes some of the largest and most listed companies in the top 100 in all of Vietnam
Percentage of shares desired to be sold 
More than 30% (negotiable) Amount of shares desired for sale: more than 30 Bil VND (approx. 150 million yen)
X社の概要
There are four main things that Company X expects from this stock sale: First is an IPO. The company's goal is to conduct an IPO by the end of 2022 in cooperation with a reliable overseas partner.
The second is to partner with Japanese partners to provide services to Japanese customers.
The third is to work with Japanese partners to improve services and solutions related to virtual shareholder meetings.
The fourth is to develop Japanese IT products in Vietnam in cooperation with Japanese partners.
Based on the above four points, we believe that Company X envisions a Japanese IT company as a promising buyer.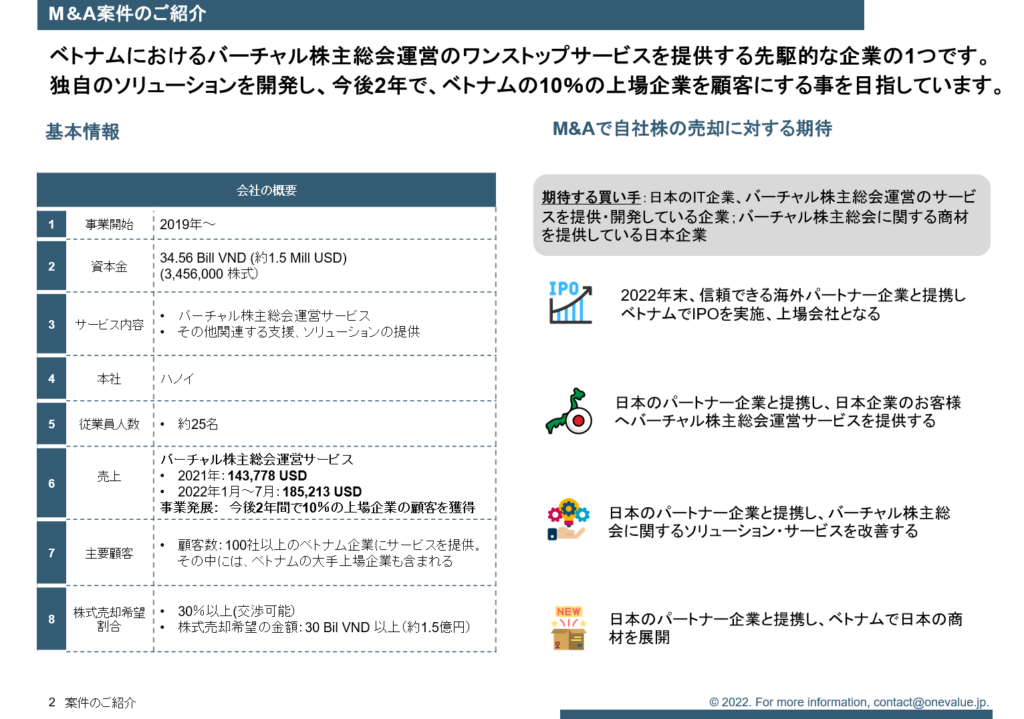 Advantages of Investment
This chapter presents the advantages of investing in this project. The two main advantages are "entry into the Vietnamese market" and "technological development.
Entering the Vietnamese Market
By partnering with Company X, the company can expand into Vietnam, and M&A is one of the most effective ways to enter foreign markets, allowing the buyer Japanese company to develop its IT products in Vietnam, not to mention the virtual shareholders meeting services provided by Company X. In addition, as mentioned above, Company X has clients from major Vietnamese companies, which can be approached. In addition, as mentioned above, Company X has clients from major Vietnamese companies and can approach these companies as well.
The annual growth rate of the virtual shareholder meeting management services market in Vietnam is estimated to be about 29%. There are several factors that will contribute to the future growth of the market, including the promotion of DX in Vietnam, especially among large corporations, and the large amount of foreign direct investment (FDI) that Vietnam is attracting.
Technological Development
By partnering with Company X, it is also possible to take advantage of Company X's superior technological capabilities and IT human resources. Many advantages are possible, including the development of new commercial products for Japan and in-house human resource development.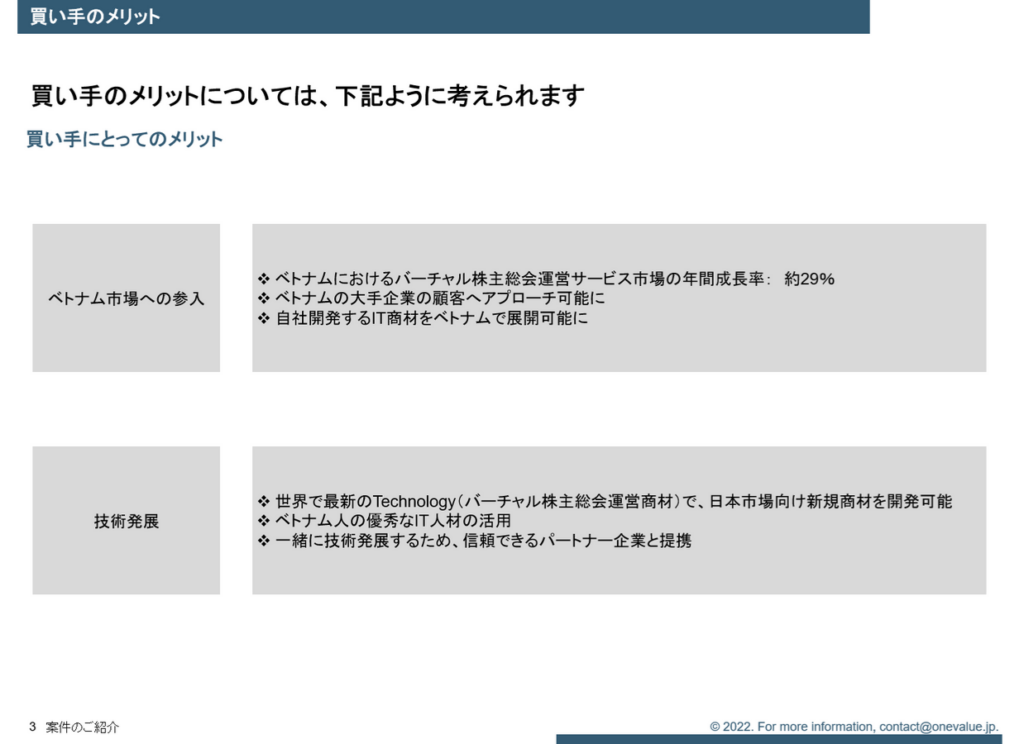 Summary
In this issue, we have introduced an M&A deal that is currently seeking a buyer as of September 2022. If you are interested and would like more information, please contact ONE-VALUE Corporation, the operator of this Vietbiz.

ベトナム市場の情報収集を支援します
ベトナム市場での情報収集にお困りの方は多くいらっしゃるのではないでしょうか。
VietBizは日本企業の海外事業・ベトナム事業担当者向けに市場調査、現地パートナー探索、ビジネスマッチング、販路開拓、M&A・合弁支援サービスを提供しています。
ベトナム特化の経営コンサルティング会社、ONE-VALUE株式会社はベトナム事業に関するご相談を随時無料でこちらから受け付けております。
ベトナム市場調査レポート一覧はこちらからもご覧頂けます。

ベトナム市場の情報収集を支援します
ベトナム市場での情報収集にお困りの方は多くいらっしゃるのではないでしょうか。
VietBizは日本企業の海外事業・ベトナム事業担当者向けに市場調査、現地パートナー探索、ビジネスマッチング、販路開拓、M&A・合弁支援サービスを提供しています。
ベトナム特化の経営コンサルティング会社、ONE-VALUE株式会社はベトナム事業に関するご相談を随時無料でこちらから受け付けております。